Launched at the end of 2021, the Acer Vero laptop that has been set as the benchmark in terms of green IT is missing the mark a bit. Fast in office use, keyboard layout and structure errors are annoying on a daily basis.
Is the Acer Aspire Vero a missed opportunity? Available since the end of 2021 and being part of the first batch of laptops that originally included the latest Microsoft Windows 11 operating system, this mid-range laptop had some distinct elements on paper. The first is made of PCR (post-consumer recycled) plastic, that is, 30% in its structure and 50% in the keys. While for the latter, its presence does not affect the user experience – the keys and their travel are rather pleasant – the same cannot be said for the chassis. With the rounded edges, the levels have been marked all around. At first this detail was trivial, however it turns out to be a recurring weakness that we think of almost every time we use this laptop.
In fact, the wrists and forearms suffer from this stiff, almost grooved design, far from the classic chassis and 1,000 light-years of pleasant magnesium or aluminum — but less green. However, we must not forget about the mid-range positioning of this product sold for 919 euros excluding taxes (1149 euros incl. tax), which is still a lot for a computer of this type. For that price, we're entitled to get the av15-51-7555 NX.AYCEE.001 (which is the subject of this test) with a stout Intel Core i7 1195G7 processor clocked at 2.9GHz, 16GB of RAM, 1TB of flash storage, and a chip. Integrated Intel IrisXe graphics don't do the job anymore. Of course, you should not expect this configuration to run the most demanding applications and games, but using the office and browsing the web with many tabs open will not present any problem. Almost OK: On several occasions when opening the browser (Chrome) I felt a really big slowdown, and it was resolved by closing the process followed by reopening.
The 250nit screen, which is non-reflective, does not guarantee comfortable use in a very bright environment and is somewhat suitable for dark environments. (credit: DF)
Viewing videos isn't a problem either, although the 15.6-inch screen (Full HD 1920 * 1280 resolution) doesn't do miracles, especially since the 250-nit screen doesn't offer reflection-free use and in a bright, unobstructed environment. The mention of the screen and its edges is far from being an example of ingenuity. In addition to the abrasive body frame, there are other details that are annoying in everyday life. The Enter key, for example, which is oddly cut in two and naturally leads to typing errors by involuntarily displaying asterisks. Similarly, the arrow keys (up, down, left and right) are poorly arranged, and the up and down arrow keys are too narrow and too close together: fat fingers hold back. Having a numeric keypad is good news. While some of the larger models — like HP's 16-inch Specter for example — are strangely gone, they're welcome here. Small downside: zero reflection with the point that, again, smudges the user experience a little more.
We'll pass the anecdotal inversion of the E and R keys decked out for the occasion in bright yellow, supposedly a sign of Acer's commitment to green IT (RE recycling) to review other bugs, this time more serious. Battery life is important: in office and web use, the computer lasts no more than 6 hours, which is really a little (WiFi access to Google Apps and Microsoft Teams) without doing a lot of video and video conferencing. On the other hand, the computer is silent and the ventilation is very discreet in this use.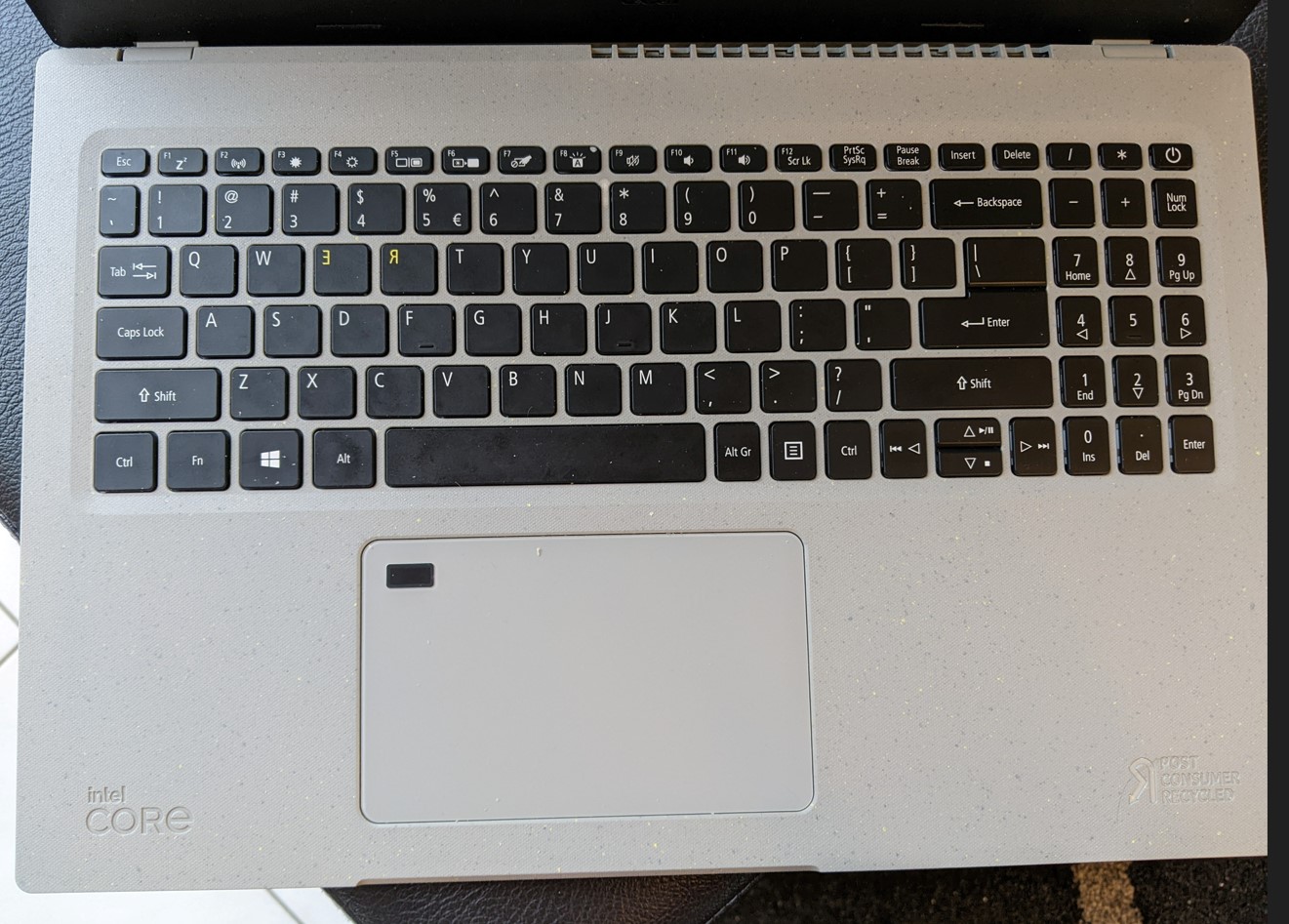 What an idea to cut the Enter key in half, the finger keeps sliding over the top key which shows an asterisk by default. (credit: DF)
Weighing in at 1.9kg, this laptop isn't particularly thin but can easily be transported although we're not here in the ultrabooks category which doesn't represent its location. A word about the fingerprint sensor: theoretically practical, it could not recognize the finger several times, which makes it easy to do without. Let's see if we are dealing with a bug or a real weakness. Also be careful not to copy and paste the MAC address too quickly in the context of WiFi recognition, it's used – not: which inevitably leads to an error taking it into account. Keys backlighting is a good idea, but we're sorry for the lack of backlight settings (level, permanent mode, etc). The devil is really in the details.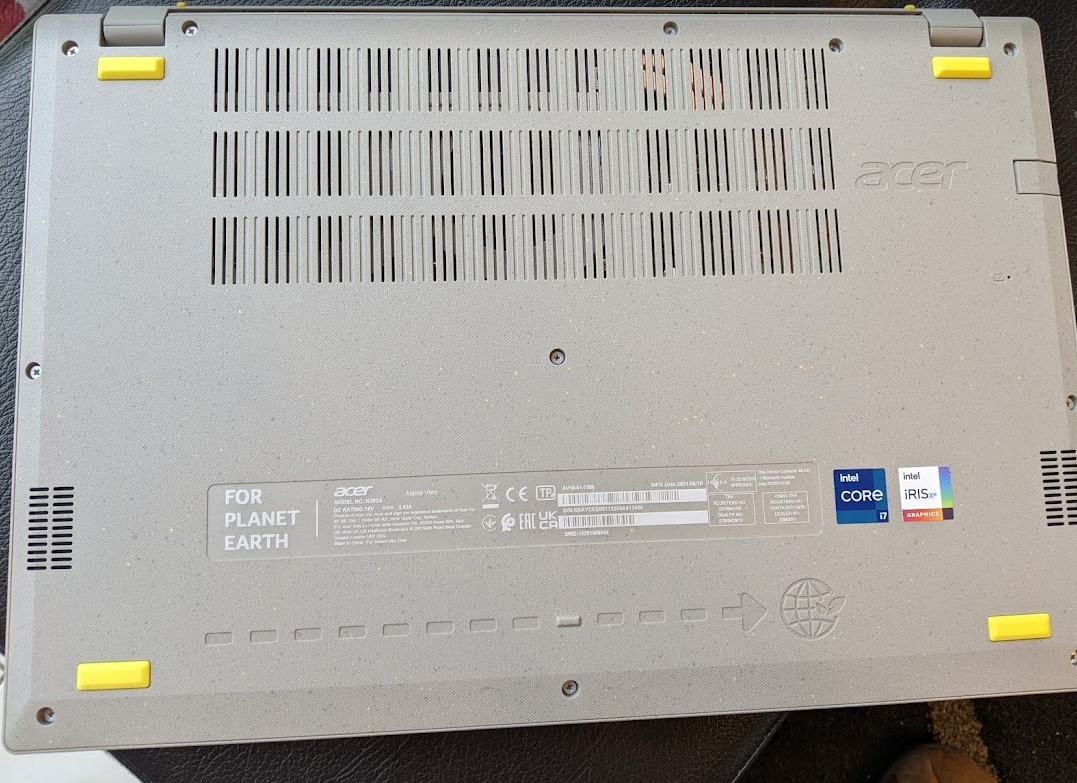 The four small buttons ensure that the notebook rests on a smooth surface but is oddly thinner than the bottom surface of a hinge that absorbs all vibrations every time the notebook is rested on a table. What about durability over time? (credit: DF)
Benchmark results within GeekBench 5
So far, laptops with a similar configuration in terms of processor (Intel Core i7 1195G7) and graphics unit (Intel IrisXe) don't run on the streets, especially at this price. If the Aspire Acer Vero has a lot of flaws, then the Taiwanese manufacturer has the advantage of offering a muscle composition in a good position in terms of price. So it is difficult to compare this computer with other equivalent configurations. Among the few models available on the market with this chipset pair is the MSI Prestige 14 Evo A11MO-026US but with a price (excluding promotion) over €1429 excluding taxes (1799 € including tax) which is not indicated in the GeekBench database.
The HP Specter x360 Convertible 14-ea1xxx (not yet available in France) on GeekBench 5 shows a single base score of 1227 versus 1394 for the feature Vero. But on multi-core hardware, the HP laptop regains the advantage with a score of 4752 versus 3198 for the Acer laptop. But it's priced in the US at just over $1,500, or 1,307 euros excluding taxes. Again more expensive than Vero, as is the MSI computer.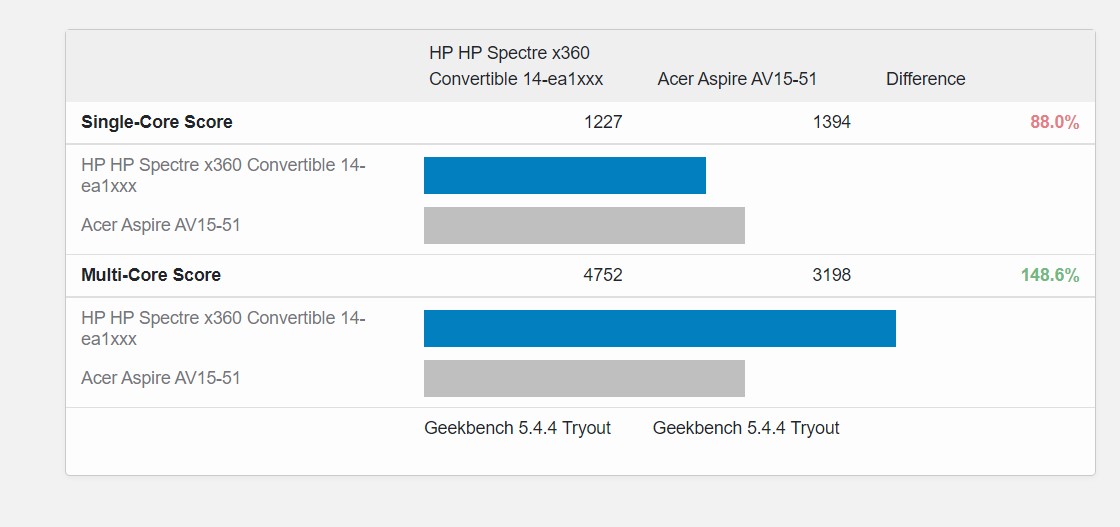 CPU benchmark between the Acer Aspire AC15-51 and the HP Specter x360 14ea1 (Credit: Geek Bench)
However, the Acer Vero sometimes doesn't feature a single core either, as this standard shows with the Dell Inspiron 14 5410 2-in-1 that has neck and neck. Except, again, once called the multiple cores perform just over 20% for the Dell 2-in-1 laptop compared to the Taiwanese eco-friendly laptop. And that, while the price difference is pretty small: roughly €833 HT (1,050€ TTC) for just over €80 extra for an Acer monitor that has a larger screen (15.6-inch) and digital panel and 1TB of storage for 512MB .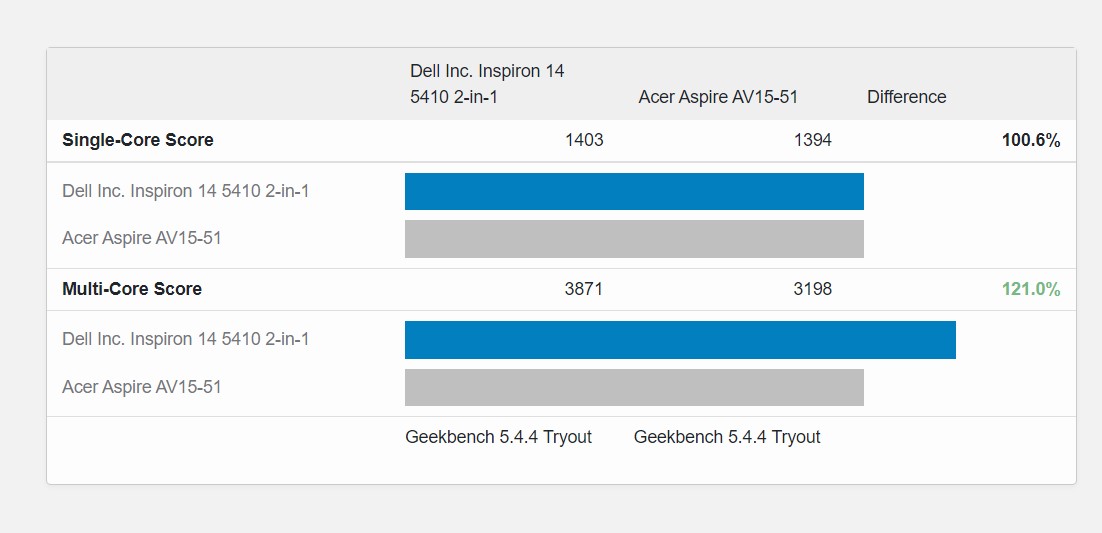 CPU benchmark between the Acer Aspire AC15-51 and the Dell Inspiron 14 5410. (Credit: Geek Bench)
As the graph below shows, the GPU performance scores between the Acer Vero and Dell Inspiron are closer. (credit: DR)

GPU benchmark between the Acer Aspire AC15-51 and the Dell Inspiron 14 5410. (Credit: Geek Bench)