Even temporarily disabling notifications on your computer can be very useful, whether it's for a meeting, during which you might need to share your screen, or a session you don't want to request. Here are some tips to make it happen.
1. Disable all notifications on Windows
To disable all notifications on your Windows PC, the procedure is very simple. So :
click on start menu,
Select the cogwheel icon from the settings,
Click on Systemthen on Notifications and actions in the left column,
less than Noticesthe button is enabled by default, click it to disable the option.
This action automatically prevents notifications, reminders, and incoming VOIP calls from appearing on the lock screen, and mutes notifications. Note that you can decide to only remove the notification sound. Then you don't need to disable all notifications, just uncheck the option Allow notifications to play sounds.
2. Disable notifications from a specific sender on Windows
You have the option to turn off notifications from a specific app or sender. This might include cutting off notifications from your mailbox or a collaborative communication platform during a meeting. Here is the procedure to follow:
click on start menu,
Select the cogwheel icon from the settings,
Click on Systemthen on notifications and actions,
Scroll down to the section Get notifications from these sendersAnd
Uncheck the apps you no longer want to receive notifications from.
Note that some apps have their own settings system for notifications.
3. Enable Do Not Disturb mode in Windows 11
Microsoft recently revealed a new Windows 11 update to members of its Insider Program. Among the new features of this version is the Do Not Disturb mode that allows you to deactivate the display of notification banners. Alerts or cues received during the notification pause time will be grouped together in the Notification Center. To access this mode:
click on start menu,
select settings menu,
Click on SystemThen NoticesAnd
Press the ON/OFF button to activate/deactivate the mode Do not interrupt.
It is possible to configure Do Not Disturb mode to be activated automatically, for example outside business hours. You can also set priority notifications and allow them to appear while the mode is on.
4. Start a focus session on Windows 11
The design submitted to the Microsoft Insider Program also revealed the "Focus" option. This allows you to deactivate disruptive elements in the taskbar in particular, including notification banners. This option enhances focus and requires setting the duration of your session.
To configure this mode:
click on start menu,
select settings menu,
Click on SystemThen NoticesAnd
Choose to focusthen select the duration of your session,
Click on StartFocus.
When you start a session, taskbar badges and notifications are disabled, a counter appears in the top right of the screen, and Do Not Disturb is automatically enabled.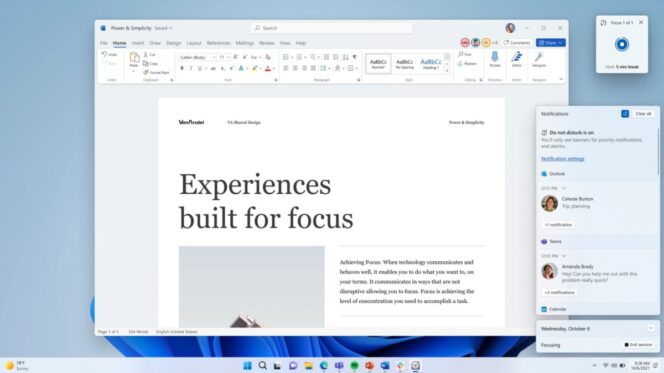 5. Quickly turn off notifications from Microsoft Teams
Microsoft Teams lets you mute notifications right from its platform, at the start of your meetings and presentations. Thus, you have the possibility to choose to systematically deactivate notifications during all your meetings held on the platform. So :
Click the three dots next to your profile picture in Microsoft Teams,
Choose SettingsAnd
Choose Noticesthen scroll to Meetings and calls and click to editAnd
Activate the button Disable notifications during meetings and calls.
You also have the option to turn off notifications during a particular meeting. To do this, under a video meeting or call that has already started, tap the three dots in the menu at the top left of the screen, then select Allow notifications To enable/disable option.