If you are a regular Android user, you may encounter some issues that you think are unsolvable. Rest assured, iMobie's DroidKit can help you fix any issues you're having with your device.
On Android, iMobie's DroidKit can help you solve many problems and perform many tasks. This is a powerful all-in-one tool that will save you from having to download many different programs to do this or that.
Whether you need an app to recover your Android data, to unlock the screen in case of problems or to solve system problems, DroidKit is the one-stop solution to do it all. The convenient and well-designed iMobie software will also save you time.
DroidKit, a complete manager of all your Android data
DroidKit includes ten different features. This includes recovering lost data, extracting data, fixing system issues, removing any kind of screen lock, bypassing FRP locks, reinstalling or upgrading the operating system, or cleaning junk files. Thanks to the new data management module, it is possible for example to securely manage your files on Android, save, move or even delete them without any loss. This tool allows you to preview your data before processing it, then selectively transfer it to save storage space.
The advantage is that all multimedia data is supported by the program (music, video, photos, etc.), just as personal data (contacts, messages, call history, etc.), as well as files related to applications.
DroidKit is compatible with Windows 11, 10, 8, 7, and Vista (32-bit and 64-bit), macOS Monterey, macOS Big Sur, macOS Catalina, macOS Mojave, macOS High Sierra, macOS Sierra, OS X 10.11, and OS X 10.10 . All Android devices running versions 5 to 12 are supported!
How to transfer data from Android to PC/Mac and back?
DroidKit allows you to transfer Android data to your PC or Mac and vice versa. Before you begin, download and install DroidKit on your computer. Next, launch DroidKit on your computer and choose Data Manager mode.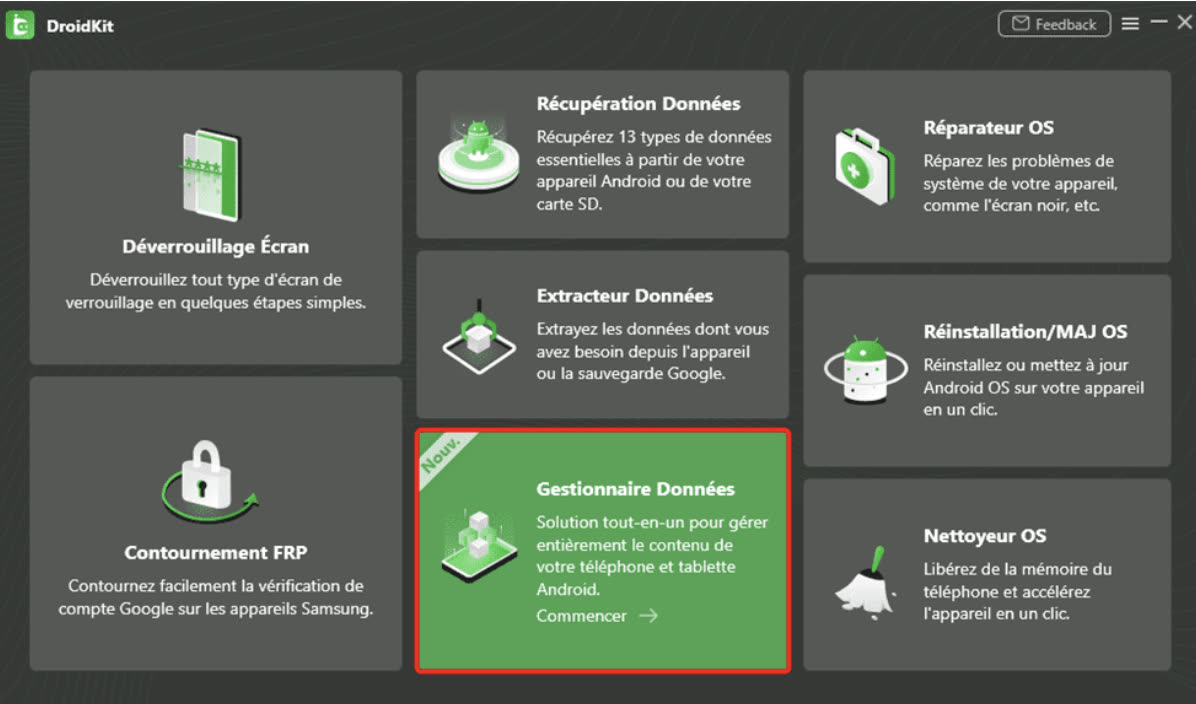 Then select the "Start" button.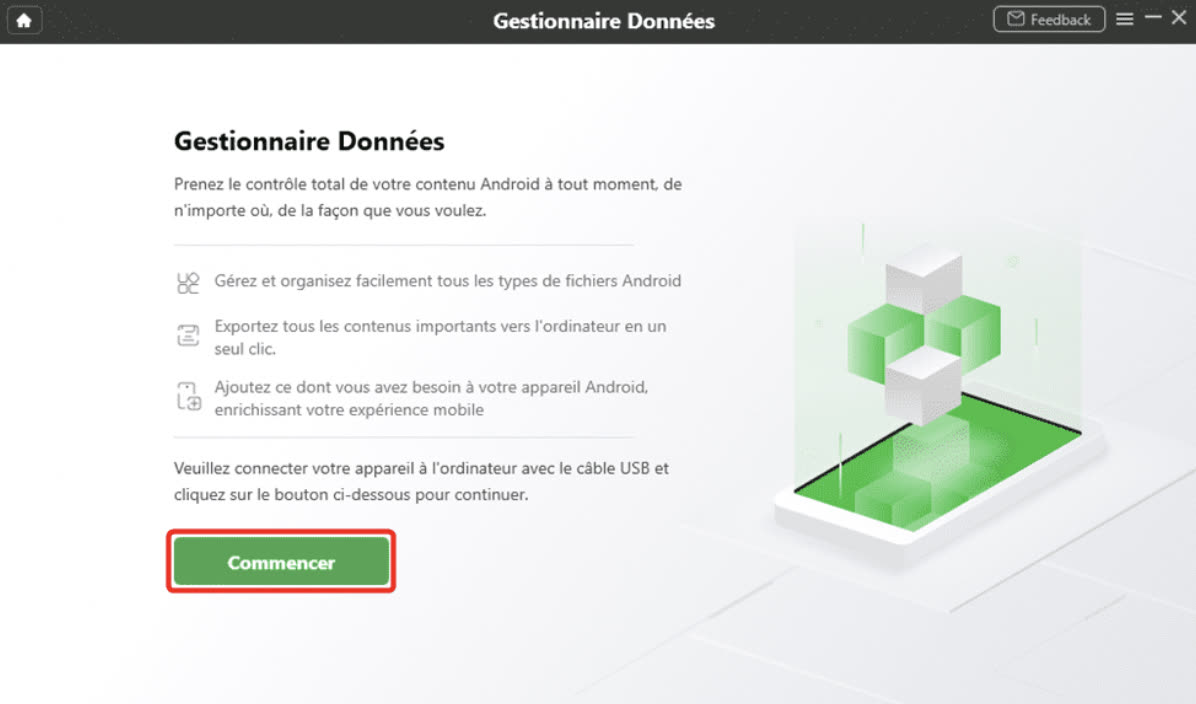 Here you have the option to export content from your device to your computer. Click Content on PC, then choose your data, for example, here, Photos.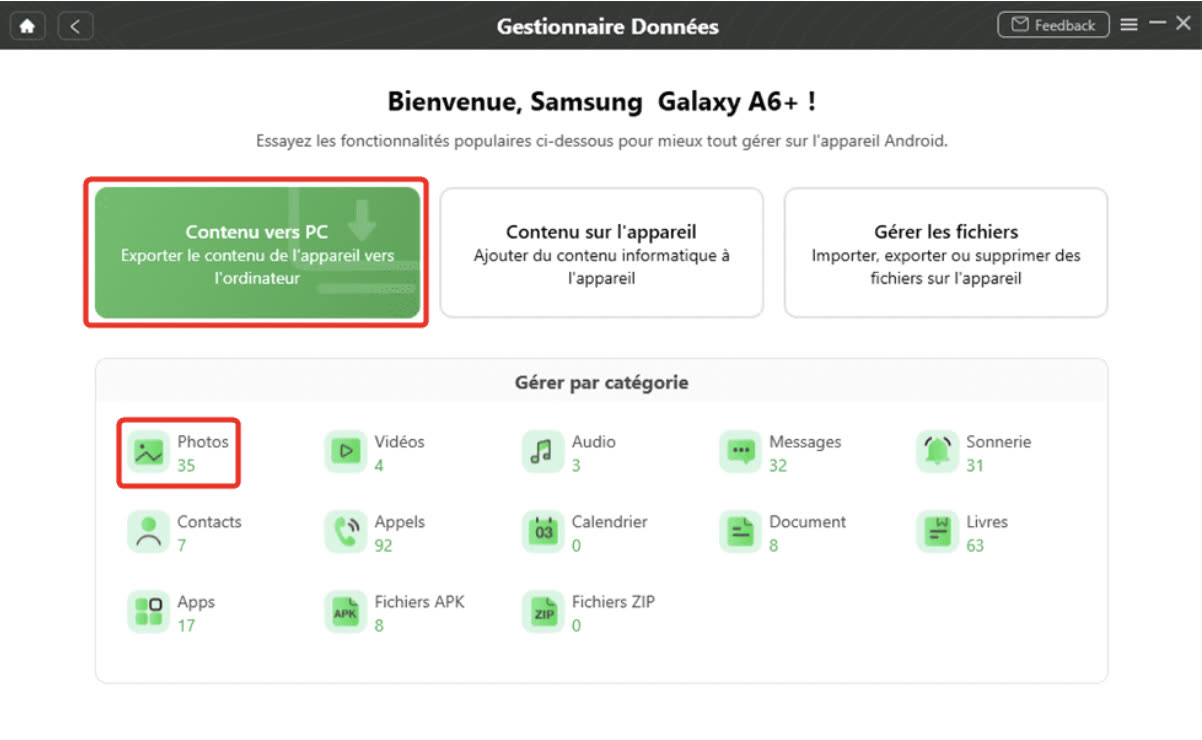 Preview the data and choose what suits you.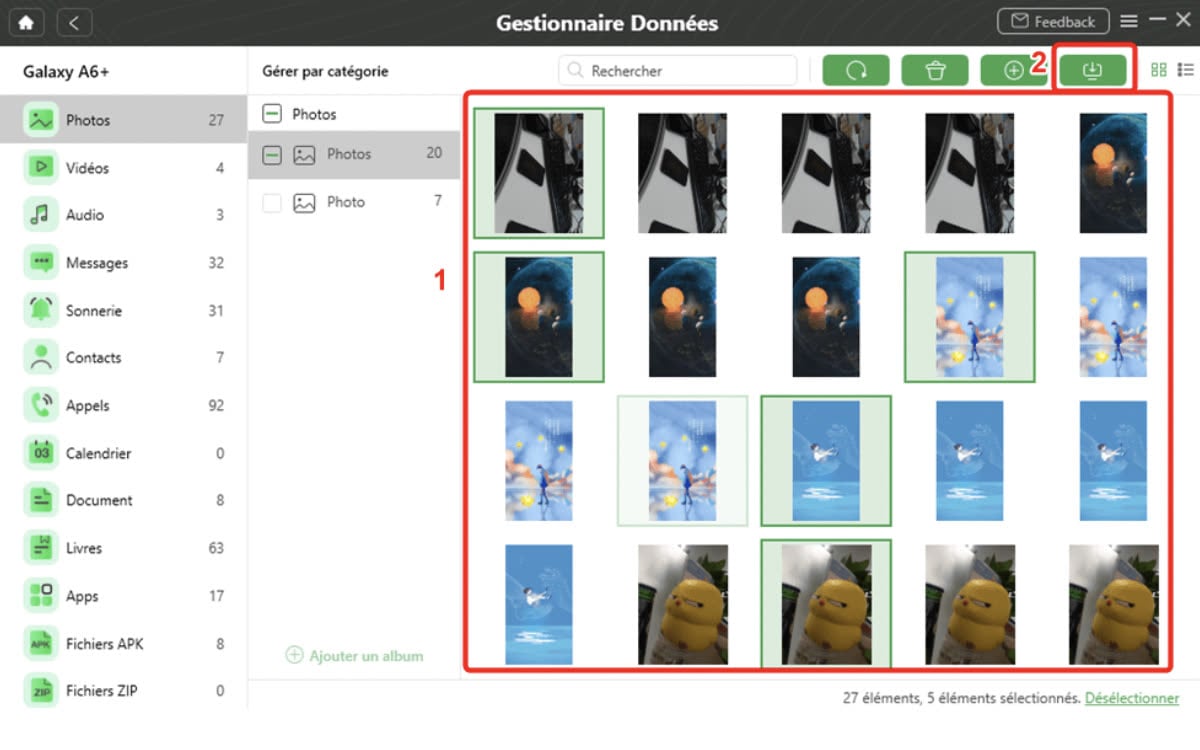 Finally, click Show files to access them from your computer.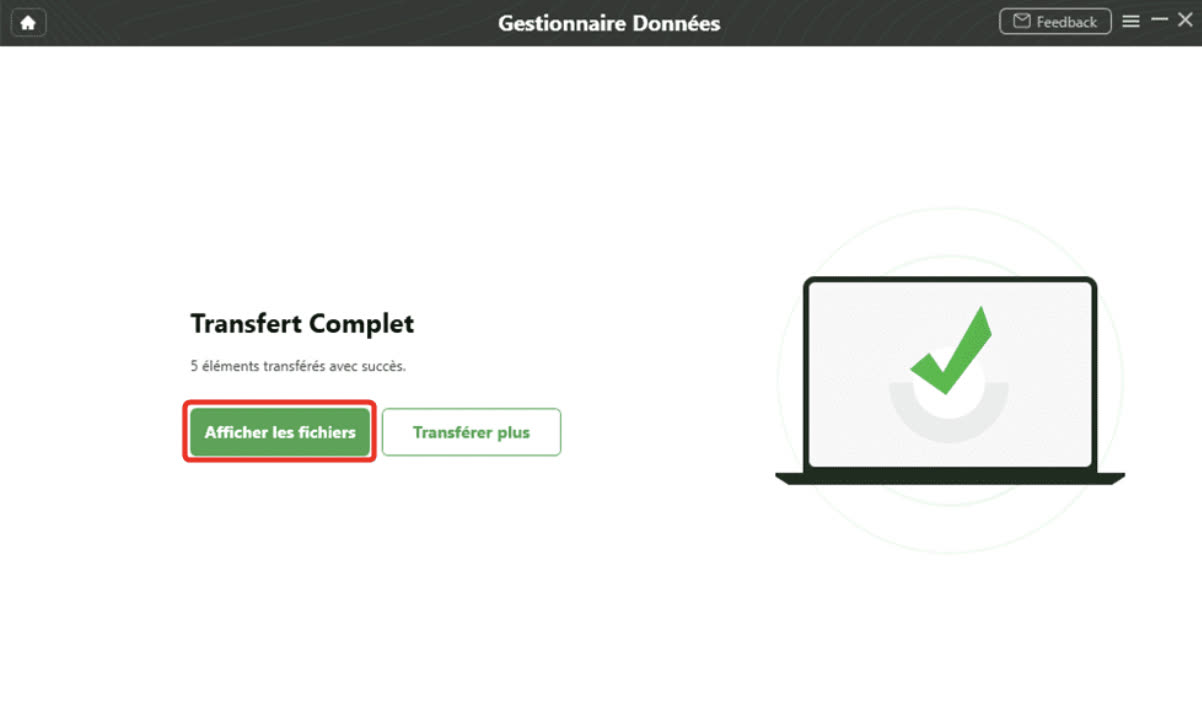 Finally, to transfer data from PC to Android, choose the content on the device and then select the data to transfer.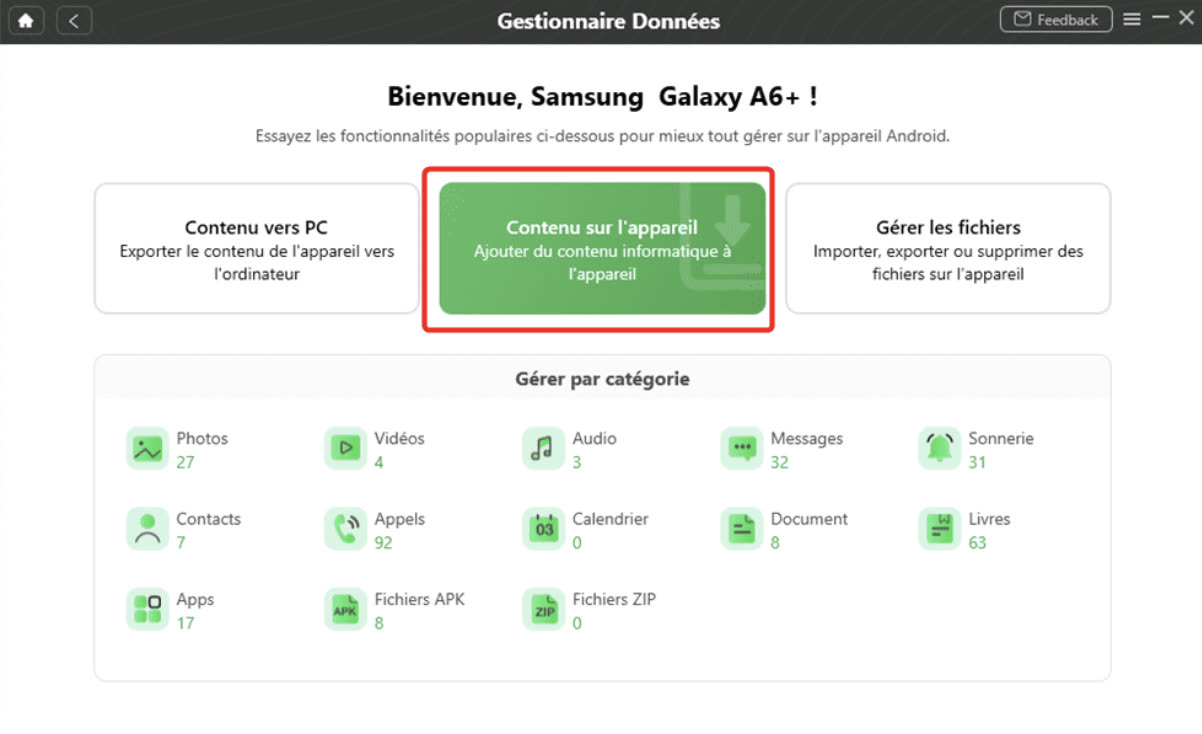 Unlock your Android smartphone screen easily
Forgot to lock your Android phone (or set its own lock) and wonder if there is a way around the problem? The answer is yes, because DroidKit also lets you do that. With this module, it is possible to unlock Android without needing a code and remove the lock screen on your Android phone and tablet.
Connect your Android device to your computer with a USB cable, then download and install DroidKit on your computer. Next, launch DroidKit on your computer and choose Lock Screen Mode and then "Start". Be careful, because this function will erase your device data.
DroidKit will prepare the configuration file for your device. Once done, just click "Remove Now".
Conquest is over!
DroidKit, a comprehensive Android data software
As you can see, DroidKit is more than equipped to deal with a host of issues on your Android smartphone. Everything is done quite easily, usually with a few clicks. The app is also capable of bypassing Factory Reset Protection (FRP), a security feature introduced with Android 5.1 and enabled when a Google account is registered on the device, including those running Android 12 and 11.
At the moment, a one-year subscription to DroidKit is offered in a promotion at €89.99, in which you have to add taxes of 20%. This is the full version of the program without any restrictions. It will open like this:
Free updates for a year
All DroidKit features: recover lost and deleted data, remove screen locks, fix system problems, bypass FRP lock, reinstall or upgrade system, extract important data, clean junk files and system cache
60 day money back guarantee. You can buy DroidKit in other versions (by quarter, for example, at 39.99 euros). All applications are compatible with Windows and Mac.
👉 Android problem? I use DroidKit!