Now, smart watches are an integral part of the daily lives of many people. But despite its effectiveness, it is clear that very few can claim the status of the "beautiful watch", able to attract the attention of enthusiasts of fine mechanics.
On this note, Garmin, a brand that has been recognized by many athletes for several years, intends to meet this need with its new Marq range. Connecting watches designed for sports but can also be worn without noting it all day, like the Marq Golfer we had the privilege of trying.
Noble materials at the service of technology
46 mm titanium case, sapphire crystal (scratch resistant), ceramic bezel where the 18 holes of the course are made, The Garmin Marq Golfer ingeniously exclusive to a connected watch. And if its screen is entirely digital (240 x 240 pixels), its stack allows it to easily maintain the illusion of a mechanical chronograph.
Of course, experts will notice up close some of the details that betray a digital display, but it remains very subtle, more than just mentioning the Apple Watch to indicate in terms of connected watches.
The design interest is not limited to the case. It extends to the jacquard nylon webbing resulting from a partnership with French artisans. The latter skillfully blends three shades of "green" to stay on topic. Comfortable, stylish and interchangeable with a silicone model (included) for wet sports.
A watch dedicated to golfers but not only
Indeed, despite its willingness to runways, The Garmin Marq Golfer is also convenient to accompany you in other sporting activities. Swimming (100m water resistance – 10 atm), running, hiking, cycling or even skiing (with trail mapping) will all be opportunities to strengthen your mental and physical state.
In this respect, like any self-respecting connected watch, the Garmin Marq Golfer is able to monitor your heart rate and blood oxygen levels. The software also includes sleep and daytime mileage tracking. Just like receiving key notifications from your smartphone or the ability to store music to accompany you on the greens.
Because yes, this is where the Garmin Marq Golfer is most comfortable. With more than 42,000 integrated courses, it can accompany you on most golf courses in France, Europe and even the world.. With a simple press of the right button, and a few seconds to wait for the time for GPS signals, a selection of nearby golf courses appears. All that remains is to validate the correct path and go to the beginning of the first hole. An aerial view is then shown with the distances from the beginning, middle and end of the green. The metrics will then adjust in real time based on your position in the trail (or in an approximate case for unlucky shots).
The MARQ Golfer watch is a beautiful product. With a sleek and elegant aesthetic that perfectly fits into the world of golf. Then because the technology included is really at the golfer's service.

Raphaël Jacquelin – Professional golfer, Garmin . ambassador
A real virtual shopping cart on the wrist
But Garmin Golfer isn't just about giving distances, it's also an assistant capable of helping you make the right decisions before your next shot. Depending on the distances achieved with each club in your bag and taking into account various variables such as weather conditions, wind speed and direction as well as altitude if necessary, An indication of the proposed club appears at the bottom of the screen. No more hesitating between 9 iron and peg when approaching the green.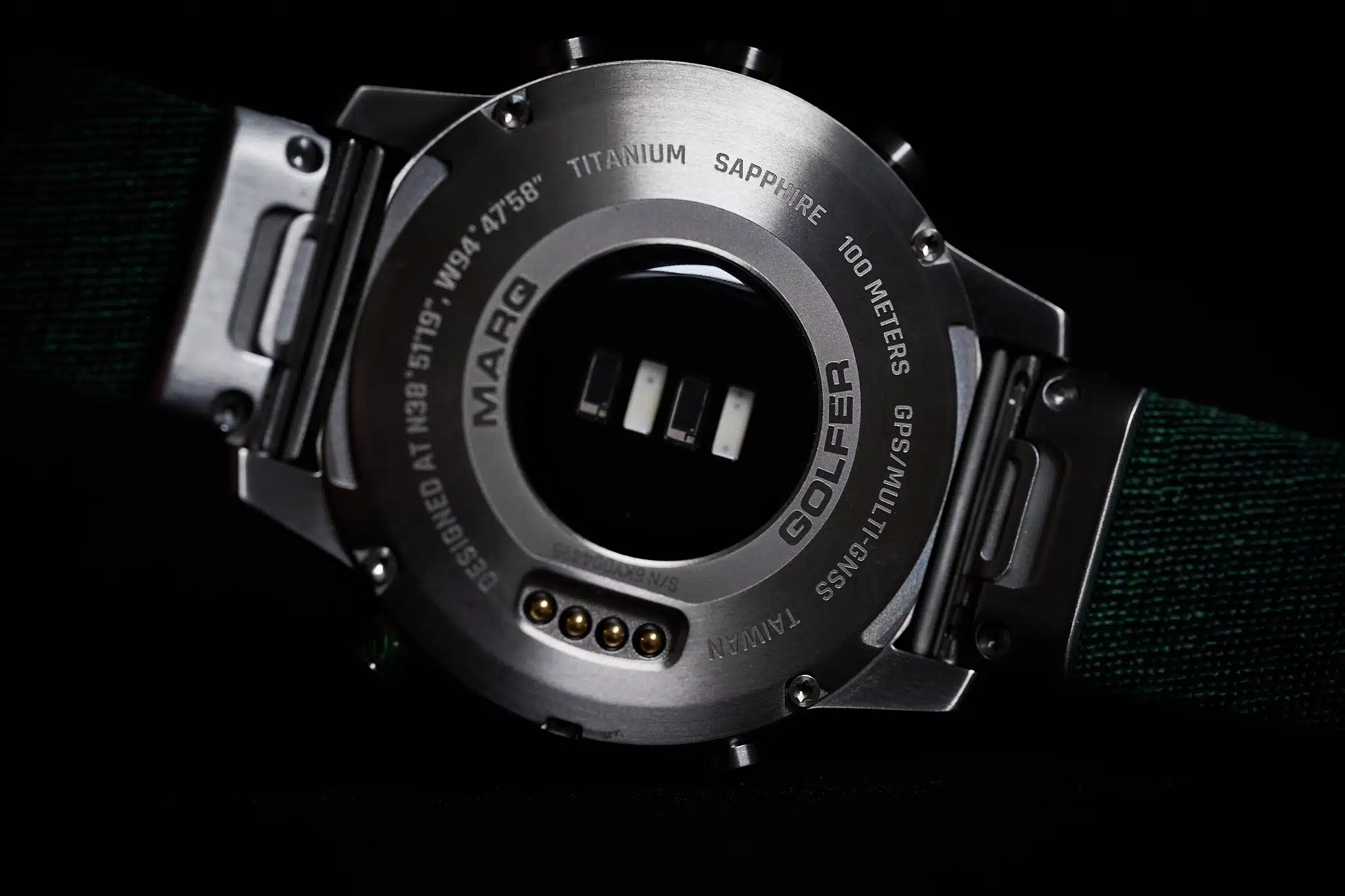 Those who are more careful with data will appreciate being able to manage the number of moves made automatically. Perfect for focusing on the game and no longer having the stress of counting to know if you're an equal, a ghost or an eagle. At the end of the 18th hole, a scorecard is automatically generated and loaded into the Garmin Golf app with the added benefit of a simulated index based on its performance for the day.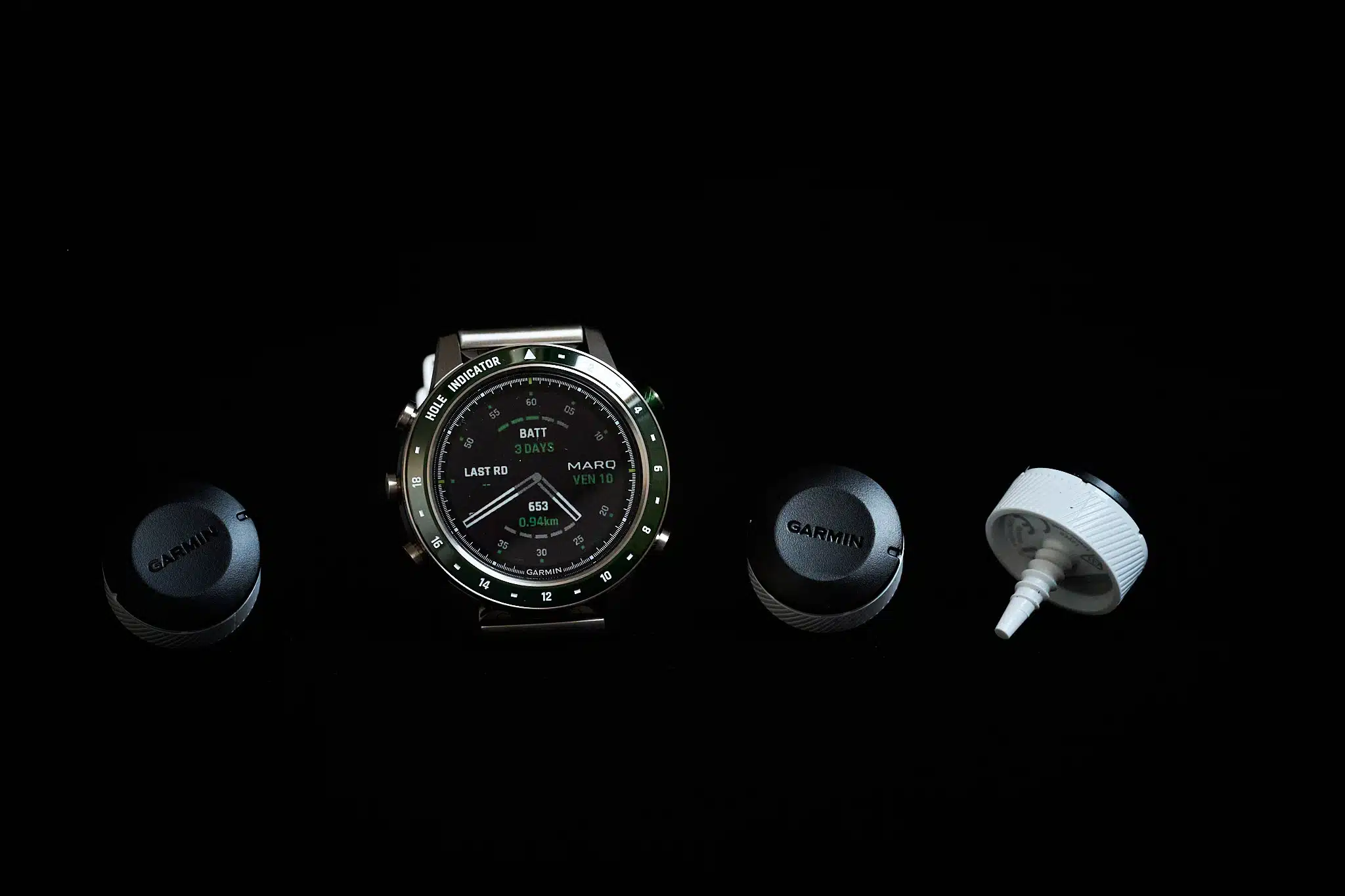 Several statistics are also available, including the ability to view your footage with the number of lanes reached. An opportunity to embody a tendency to play graphic or fade if necessary. In this case, a return to practice is necessary. And if nothing can replace the watchful eye of a professional, technology can once again be of great use. En l'occurrence, grâce au trois capteurs CT10 à positionner en haut du grip de vos clubs, il est possible de recueillir de nombreuses données très précises en rapport avec son swing : distance, angle d'impact et de sortie, spin de la balle and other things.
We saw in the Garmin Marq Golfer
By launching its own Marq range, Garmin intends to respond to a very real problem, which is Presents a continuous watch that is not the same as a continuous watch. At this point, no doubt, the bet was a hit with a much more elegant look than the S62's once out of the greens.
In terms of functionality, Marq Golfer integrates all the most advanced brand technologies for golf but also for most other sports. It is also a more classic connected watch which is an extension for your smartphone on a daily basis to manage calls, calendar and other notifications.
The lack of a touch screen may be confusing at first glance, but its electronic link screen – which is always active, moreover – allows it to take advantage of Exceptional independence for more than 10 days or 28 hours when GPS is active. It is enough to hold a tournament without a startle.