So as not to miss any African news, Newsletter Subscription "The World of Africa" from this link. Every Saturday at 6am, find a week of news and discussions covered by the editorial staff at "The World of Africa".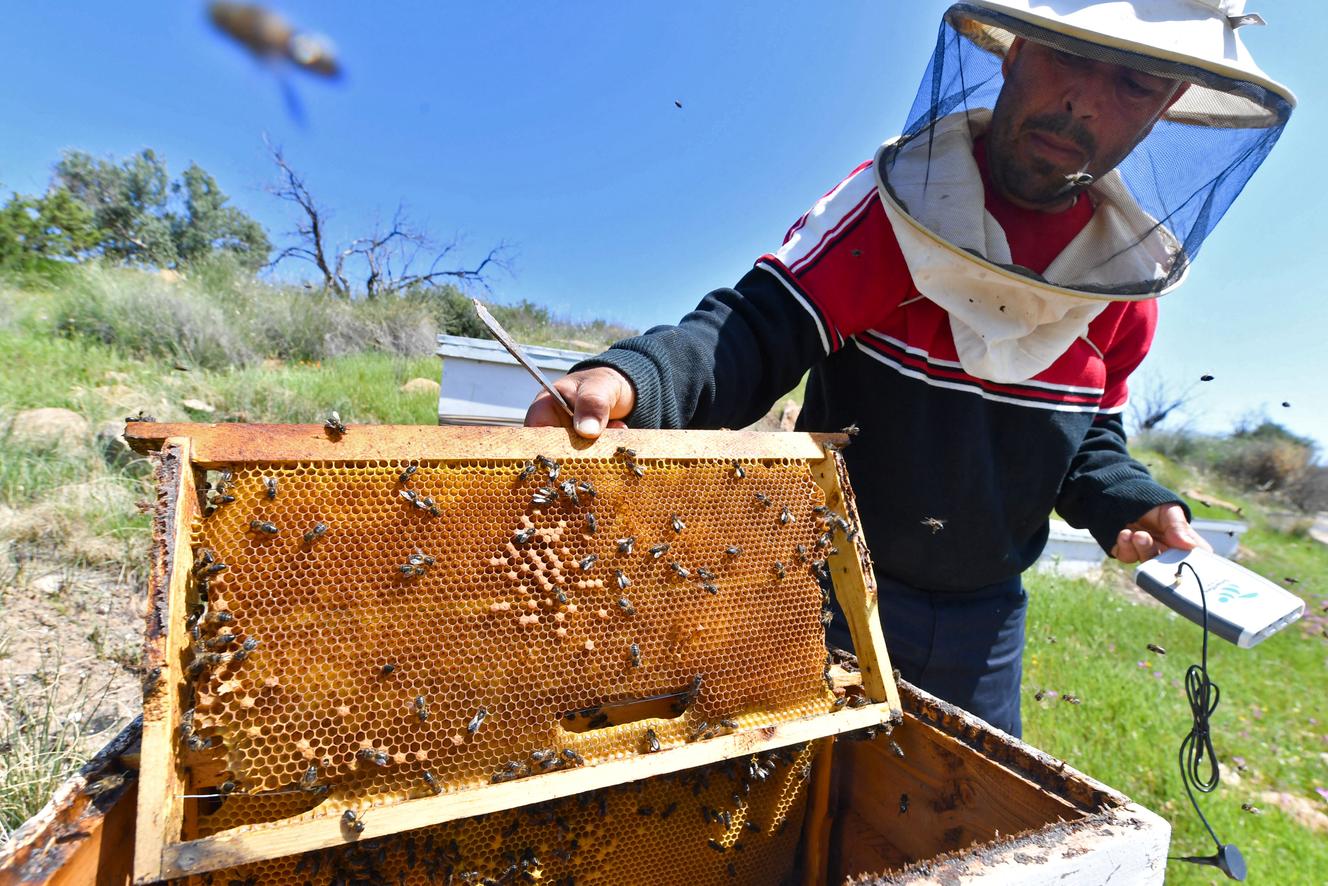 Elias rushes to him "smart cells". The beekeeper received an alert on his phone thanks to a 100% Tunisian and pioneering application in North Africa, aimed at avoiding excessive bee deaths and improving honey production.
On a hill on his family's plot in Testour, northwest Tunisia, Elias Chebbi, 39, opens the shutter of a beehive and shows a small white device that looks like a decoder that measures variables and warns him of any accident, via the Smart Bee app. Tunisian startup Beekeeper Tech has developed an infrared sensor that continuously provides data on the environment and bee health, in order to "reasonable price".
Read also:
In Tunisia, a project to translate French books into Arabic
Sensors measure humidity and temperature as well as insect buzzes. When there is a problem, an alert is sent. The devices also have a GPS locator to prevent bee hives from being stolen. "Thanks to this, I am calm and I know from afar what is going on"rejoices AFP, Elias, a former accountant who started beekeeping in 2013.
A third of the losses before
It was the same year a group of young Tunisian engineers came up with the idea to remotely control beehives, before launching Beekeeper Tech in 2016. The marketing phase only began in 2020. This startup is the only one of a kind in North Africa and has sold Already more than a thousand Smart Bee devices, mainly in Tunisia and neighboring countries.
According to its CEO, Khaled Bouchoucha, there is a huge demand and the company is preparing 1,500 orders for clients in Tunisia, Libya, Algeria, Saudi Arabia and even New Zealand.
The Smart Bee sends real-time updates to a central computer, which analyzes the data and helps the beekeeper respond quickly. This technology "Proven to work" In Tunisia and other countries, said Mr. Bouchoucha, 34, who started with the help of his father, an occasional beekeeper.
Read also:
In Tunisia, the tough opposition to President Kais Saied
In Tunisia, as anywhere in the world, bees face multiple threats, such as climate change, pollution and pesticides, at the origin of the increasingly frequent phenomena of the mass disappearance of bee colonies. The information collected in the hive makes it possible not only to estimate the danger, but also to know the productivity of each queen and its resistance to climatic changes.
So the app helps to locate a file "cell model" To purify the strains and repeat their work on the farm. When a beekeeper is alerted to a problem, he can either move hives that are too hot to colder areas, isolate those that are too cold, or even provide a gentle solution for bees that are too weak to overwinter.
"Food Sovereignty"
Prior to using this application, Elias was losing about 30% of his hives annually due to humidity and sudden changes in temperature. Since he plugged them in in 2017, in the trial phase of the Smart Bee, he's only lost 10%, "in the worst case"He says.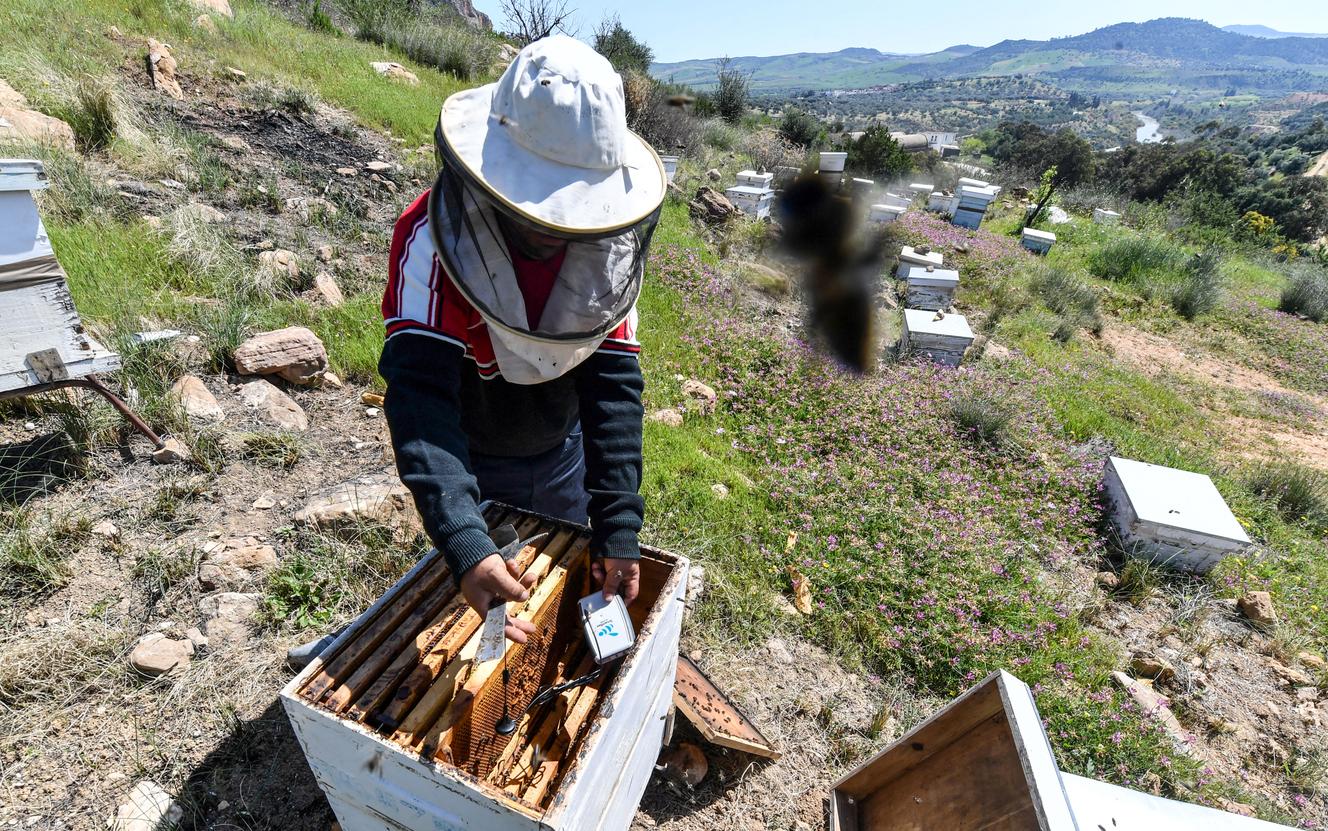 "Before that, some bees gradually died without me noticing it early enough"He explains, noting that the task of professionals has become difficult because of 'A constantly changing climate'. "Tunisia suffers from drought almost all year round, which means the habitat and food of bees are gone"he said, ensuring that he has to regularly search for new sites to install.
System "smart cells" It also allowed him to increase production to about 12 kg of honey per hive and per year for 8 kg, an increase of about 40%. Elias has only two Smart B devices at a cost of about 300 dinars (92 euros), which he periodically places in each of the 100 beehives, but he would like to have other devices.
Read also:
This article is reserved for our subscribers

In Tunisia, the risky project of reforming food subsidies
This technology can Help us strengthen our food security and sovereignty. We desperately need it in a world full of disease and war."Munwar Jamali, a researcher at the National Institute of Agriculture, explains. In Tunisia, which has a population of about 12 million, the sector employs about 13,000 people, according to a local agricultural union, and produces about 2,800 tons of honey annually.