When technology meets design and aesthetics… this gives MSI's new PCs that are scalable, compact and truly ready to move (free) to Windows 11. The MSI PRO DP20Z, MSI PRO DP21 and MSI PRO DP130 are the same in the computing category The cutting edge character, with a choice of next-generation AMD or Intel processors. Another interesting point: they make use of an original productivity program – MSI Center.
MSI (Micro-Star International, Co. Ltd.), one of the world's leading personal computing companies, first became famous for the quality of "gaming" motherboards, graphics cards, monitors and computers. For several years, this major Taiwanese manufacturer has also developed ranges of high-end computers for intensive professional use. Its equipment is not lacking in arguments.
Three new series of desktop computers
At the beginning of 2022, MSI is introducing three new desktop series aimed at improving workplace productivity: the DP20Z Series, the DP21 Series, and the DP130 Series. Equipped with the latest generation of processors, these computers feature the new Windows 11 operating system. The mini-tower format, ranging from 2.6 to 13 liters, allows you to combine RAM hard disks or SDDs, but also, in one of the series, allows you to combine a high-performance graphics card.
The connectors there are specially developed: whether they're on the front or back panel, these "professional" computers have an impressive number of ports useful for connecting or nearly all imaginable peripherals – including those that require the popular Serial/COM Forget about it often.
On the video side and depending on the model, up to three monitors can be connected. These computers are equipped with a very modern Wi-Fi 6 wireless connection, not forgetting, of course, the Bluetooth connection interface.
elegant design
The manufacturer has made it a point of honor to take an interest in finishing these new "business and productivity" models. Its design is inspired by a noble and powerful plant: bamboo. In fact, the PRO DP series consists of boxes that are very light and resistant, but also very well ventilated. They are designed to withstand intense and continuous operation, and to counteract increased load, without losing any of their performance over time.
Its original appearance can be enhanced by a discreet, practical and universal mounting system: VESA; Thus, all forms of installation are possible: mounted on the wall, on a stand, on a shelf, attached to a video monitor, etc.
Another strong point: This new series benefits from a highly secure environment thanks to the TPM 2.0 module (Trusted Platform Module) Compatible with Windows 11. The device stores and secures important information for authentication or encryption.
Power and flexibility with PC PRO DP20Z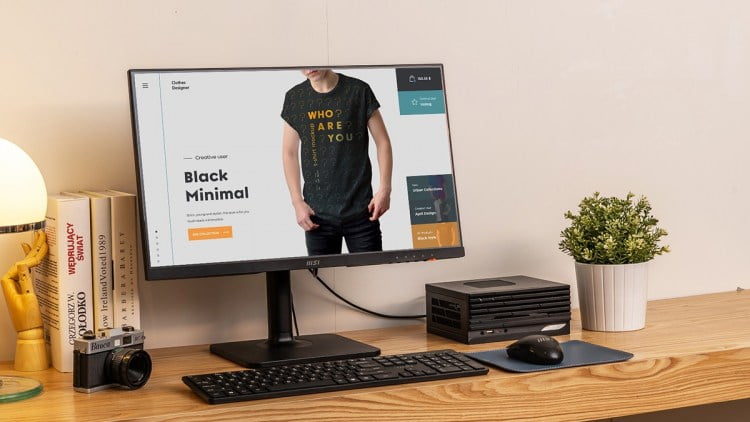 The PRO DP20Z is designed to be powerful, fast, and easily expandable. In a discreet and elegant volume (only 2.6 liters), it turns out to be very universal. It includes everything useful to work efficiently. It has no less than 14 connectors, including 4 in the front. There are DisplayPort, HDMI, VGA, serial/COM, USB, etc. connectors. supports up to three external monitors, with a very high resolution of 4K / 60 Hz, and therefore can accommodate very large screens intended, for example, for displaying advertisements; Or it can be used as a "home cinema" computer.
Its system solutions make a PC extremely flexible, easy to set up, economical, responsive and powerful – in short, suitable for all kinds of professional applications without having to be an "expert". Equipped with up to AMD's Ryzen™ 7 5700G processor and equipped with a convenient 64GB of memory (DDR4 3200MHz), it displays quickly perceptible performance right from the start; Verifiable performance in the case, for example, of large database applications with a lot of analysis and processing and a lot of windows or pages open, including videos. Difficult to take due to lack of response. Response times remain constant, as does the frame rate.
The storage capacity, 256GB (in SSD), is easily expandable thanks to two SATA connectors that accommodate standard 2.5-inch hard drives.
The PRO DP20Z is available, among other things, in LDLC. (from €699.95)
Learn more about PRO DP20Z
MSI PRO DP21 Series: Suitable for demanding or demanding applications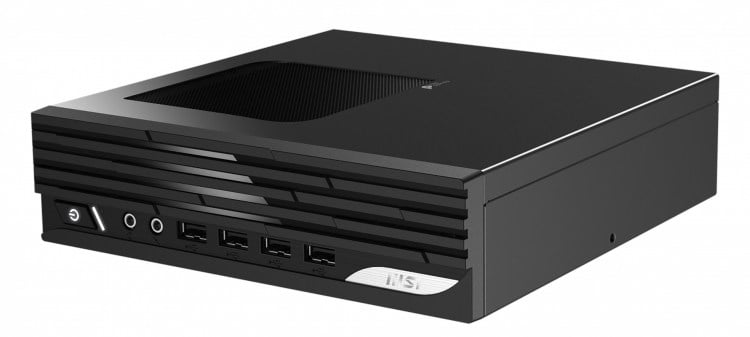 MSI's PRO DP21 uses Intel chipsets built around the powerful Core i7 processor with 64GB of dual-channel memory.
It is suitable for all business environments, especially where heavy document processing or big data analysis with high-resolution graphics is a priority.
In the same case as the DP 20Z, this series displays 4K graphics resolution synonymous with great visual comfort. Here, too, there is no shortage of connectors and a number of needs are met: in addition to 8 USB ports, there are 2 serial / COM ports for barcode readers or several specific peripherals. We can thus connect PLCs and robots to human-machine interfaces and so on. The 256GB SDD configuration starts at €699.95 at LDLC.
Learn more about the PRO DP21 series
PRO DP130 series, the most powerful with Intel Core i3 to i7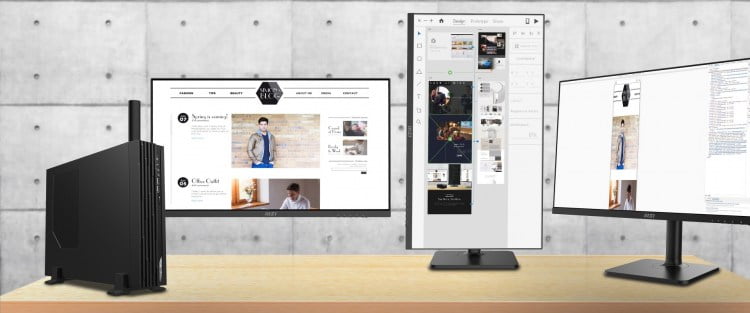 At the top of the pack, the MSI PRO DP130 computers are compact towers with a very elegant design once again. These are especially powerful and richly equipped desktop computers: they are "powered", at will, by Intel Core i3, i5 or even Core i7-11700 processors (with 8 cores). There is also a version equipped with the Pentium Gold G6405 (Intel).
This series, with an expandable memory of 64 GB (3.2 GHz), meets almost all the required "professional" needs. With very efficient response times, these computers are suitable for "business" applications that require memory capacity and lots of processor resources. They are suitable, for example, for marketing presentations that include high-resolution videos, displayed on a very large screen.
Despite such large capacities, this series remains compact (10 cm x 43 cm x 34 cm or approximately 13 liters); It can accommodate a large number of peripherals thanks to the abundance of connectors: VGA, HDMI 2.0, DP out, USB 3.2 A and C, Mic-in, Jack-in and out, not forgetting about the RJ45 network connection … Again, it is possible to connect what Up to three screens.
Equipped with an Intel Iris Xe graphics chip, the PRO DP130 series can accommodate an MSI NVIDIA GeForce graphics card, GT 1030 or GTX 1650, improving performance by 40% over the previous generation. So it is possible to display videos on the big screen in very high definition ("home cinema", promotional films, etc.).
Calculate €1,099.95 in LDLC for a configuration based on an Intel Core i5 processor combined with 256GB of SSD storage + 1TB HDD.
Learn more about the PRO DP130 series
---
MSI Center: Original Productivity Software Powered by Artificial Intelligence Algorithms
These three new series of "business and productivity" PCs from MSI PRO have one interesting commonality: they are equipped with software that improves personal productivity on a daily basis. This tool improves the way it works in a practical way: customize the interface color; Automatic loading of most used apps and features, etc.
Thus, the Intelligent Priority Module, thanks to an artificial intelligence (AI) engine, identifies priority tasks – those that require the most "system" resources. Three modes are offered: user priority, real time, and smart priority.
Other benefits: MSI Sound Tune uses artificial intelligence to filter out ambient noise, when you're in a video or audio conference. Smart Image Finder automatically scans your saved images, adding descriptive 'tags' for easy retrieval.
Another nice new feature: The True Color function provides four levels of viewing comfort: EyeRest (preventing eyestrain), Game or Movie, or Custom mode.
And if, one day, your computer requires a reset, it can be done without worries: simply from a USB key or an external drive. This is the big interest for a dedicated unit: MSI Recovery.
---