>> Vietnam may become an 'Asian golf paradise'
>> The untapped potential of golf tourism in Vietnam
>> Golf tourism promises a bright future in Vietnam
Golfers at the FLC Ha Long Course in Quang Ninh (North).
Quang Ninh (Northern) province has many world-class golf courses, linked to different luxury resort areas. These high-quality courses have been designed by world-renowned golfers with adjustments made based on topographical features, natural and cultural resources.
These include the golf courses in the FLC Ha Long complex, the international tourist district of Tuan Châu Island, and the cities of Mong Cai and Dông Triêu. Few of them are located in ideal locations overlooking the sea and provide unforgettable experiences for players.
Golf tourism is a form of sports tourism where clients travel to play golf, visit golf courses, or even attend tournaments.
chance to seize it
Apart from improving the quality of golf courses, players in this sector are focusing on developing tourism services and products. Tour prices are reasonable for players. For example, a golf stay at FLC costs 2.3 to 3 million VND, including a night at the hotel, breakfast and the course. At Tuan Châu Course, the price ranges from 1.9 to 3 million VND for a night at the hotel and golf course. Visitors not only play golf, but also try other tourism products.
International standard golf courses are a big advantage for Quang Ninh to attract visitors from Northeast Asian countries such as Japan, Republic of Korea…
"Unlike traditional tourists, golf tourists often come multiple times. Apart from the course fee, they also pay for the services of luxury hotels and restaurants. Thus, the development of this segment makes it possible not only to diversify products, improve the competitiveness of travel, but also to attract customers for long stays.Vu Nam Trang, CEO of FLC Hotels North Region shares.
"We have cooperated with foreign partners to bring golfers from the Republic of Korea and Japan to Quang Ninh. Visitors choose this area for its advantages in terms of accessibility and tourist attraction', she adds.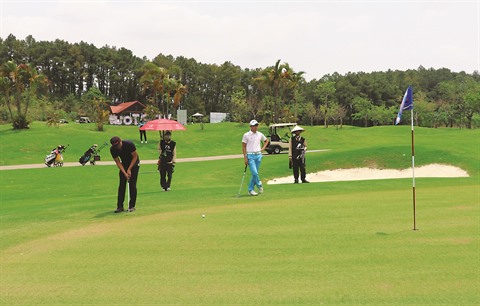 Vietnam was named "Best Golf Destination in the World" in 2019 and 2021, presented by the World Travel Awards.
However, golf tourism still has limitations. "Quang Ninh does not yet have any travel agencies specialized in this type of tourism or help from local authorities to develop it. Thailand and Malaysia promoted affordable tours with government support. Cooperation between tour operators and golf courses is still very weak. Foreign tourists have difficulties in finding information on the tourist circuits associated with this sportPham Doi Ngia, Director of Vietfoot Travel insists.
Communication strengthening
In the future, golf will become a more global entertainment as new markets develop in Asia, Latin America, the Middle East and Eastern Europe. Quang Ninh has set itself the goal of enhancing its strengths and potential in a sustainable way.
Travel agencies play a very important role in connecting airlines, golf courses, restaurants, hotels…
They should strengthen the relationship between the different units and use information technology to facilitate exchanges. Local authorities, for their part, should support companies and tour operators in order to develop this sector.
According to Pham Ngoc Thuy, Director of Tourism Department of Quang Ninh, to improve the attractiveness of the area around golf, apart from improving the courses, it is necessary to link the sport with local tourism activities to create comparative advantages in terms of culture and experience. In addition, it is necessary to organize golf tournaments, seminars and professional training courses to attract domestic and foreign tourists.
According to him, it is necessary to focus on the local market due to the high demand and accessibility, organize golf tournaments in Quang Ninh to attract local players, and cooperate with golf associations in Japan and the Republic of Korea to bring in golf. – The love of the tourists to that province.