The Samsung Galaxy Tab S8 Ultra is unparalleled on the market. With a 14.6-inch OLED display, this tablet exceeds the size of most laptops. We tested it for a month.
When we first played with the Galaxy Tab S8 Ultra, we were very smitten. With its gigantic 14.6-inch screen and ultra-thin (5.5mm) screen, Samsung's latest born seemed well on its way to bringing something new to the tablet market. And remember that the market is very boring. Blame it on the duopoly between Apple and Samsung and consumer indifference.
After nearly a month of using the Galaxy Tab S8 Ultra at home, our opinion has changed somewhat. In addition to being pricey for a tablet (from 1,219 euros, which is more than some high-end PCs), the Galaxy Tab S8 Ultra sometimes has drawbacks caused by its main quality: its size.
Luxurious screen
Next to the Galaxy Tab S8 Ultra, the largest iPad Pro (12.9-inch) looks small. It must be said that the Samsung tablet is a record-breaking in its class and will flirt with the largest of laptops, which is quite ambitious. It even works better in some respects. The LCD screen is used in the vast majority of laptops, and Samsung uses OLED. The screen of the tablet is absolutely amazing. Rarely have we dealt with such a beautiful tile.
If you are not familiar with this technology, OLED is the best in the screen market so far. With each pixel self-illuminating, the OLED delivers truly black blacks, which is pretty amazing when watching a movie for example (or with the app's dark theme). Only the bright places light up, the rest are off. This technology is very common on smartphones and high-end TVs, but it is still very rare on tablets and computers.
For watching movies, playing streaming video games, browsing the web or making video calls, the Samsung tablet is, by far, the most compelling product in terms of screen. In fact, between the 40-inch LCD TV in our bedroom and Samsung's 14.6-inch OLED screen, we often preferred to use the Galaxy Tab before bed. The picture is so beautiful and not so aggressive that you really want to settle on it, especially since its brightness easily exceeds high-end TVs. Same thing during a plane trip where we voluntarily brought the Galaxy Tab S8 Ultra with the sole purpose of watching an episode of a series on Disney+. Samsung's giant tablet is kind of a fancy mobile video store, not quite a computer (the 120Hz refresh rate makes the experience even better). Anyway, it's pure bliss for the eyes.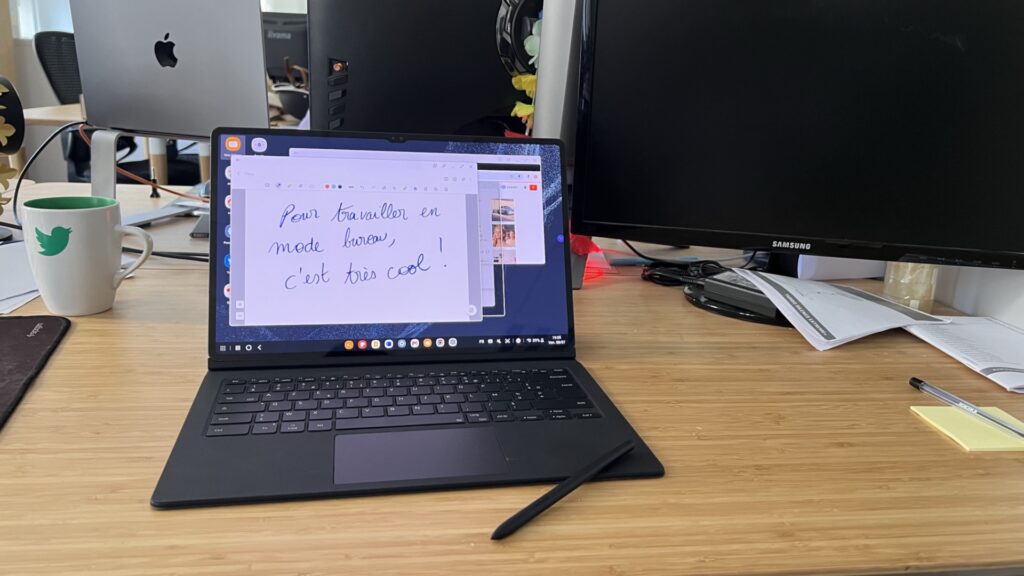 By opting for a large OLED panel, Samsung is clearly succeeding in part of its bet. Going beyond 12 inches on a tablet might make sense if you're not using it as a tablet.
Closer to a computer than a tablet
Because we don't see the Galaxy Tab S8 Ultra as a tablet. why ? Because its large size has a flaw that makes it very difficult to transport. Holding it in your hand to show something to a friend is impractical, the weight is unevenly distributed and the tablet tends to tilt to one side (726 grams). On the knees, even with the optional keyboard protection, it's also quickly annoying. It looks like the tablet is about to turn over at any moment. In the end, where we used the Galaxy Tab S8 Ultra, it was the most that was on our desk. As if it was a laptop. The only times we've taken it out have been watching videos by holding it to the base of the case (it doesn't have a built-in foot, which is unfortunate given its size). Samsung, in a way, created the first stable tablet.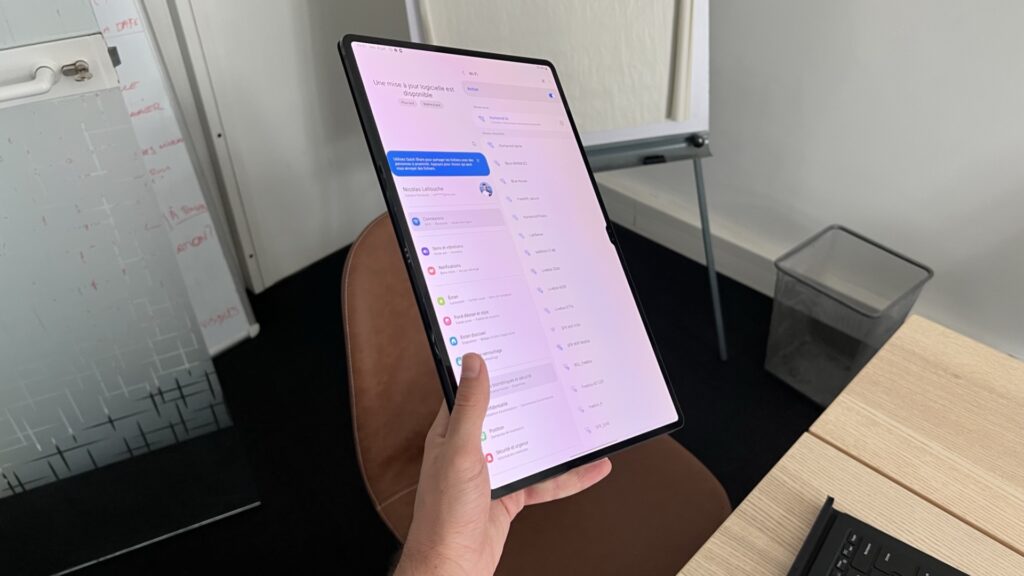 All this is even more unfortunate that at the software level, Apple offers applications that are best suited for large screens, but it is Samsung that offers the best interface. Thanks to DeX mode, all Android apps can be opened on the Galaxy Tab as windows. DeX allows you to use your Galaxy Tab as a laptop with a mouse and keyboard. It works well, and on paper it looks like it was tailored to the giant 14.6-inch screen of the S8 Ultra. It feels like you are using a real computer.
The problem is that on the desktop, Windows and macOS remain infinitely superior to Android, with or without DeX. Even if it means choice, we'd rather buy a real laptop at this price (+ 1,219 euros, remember). The Galaxy Tab S8 Ultra stands out for its exceptional OLED screen, but that makes the small TV pricey. This new class is crammed between several universes and is not the best in any of them.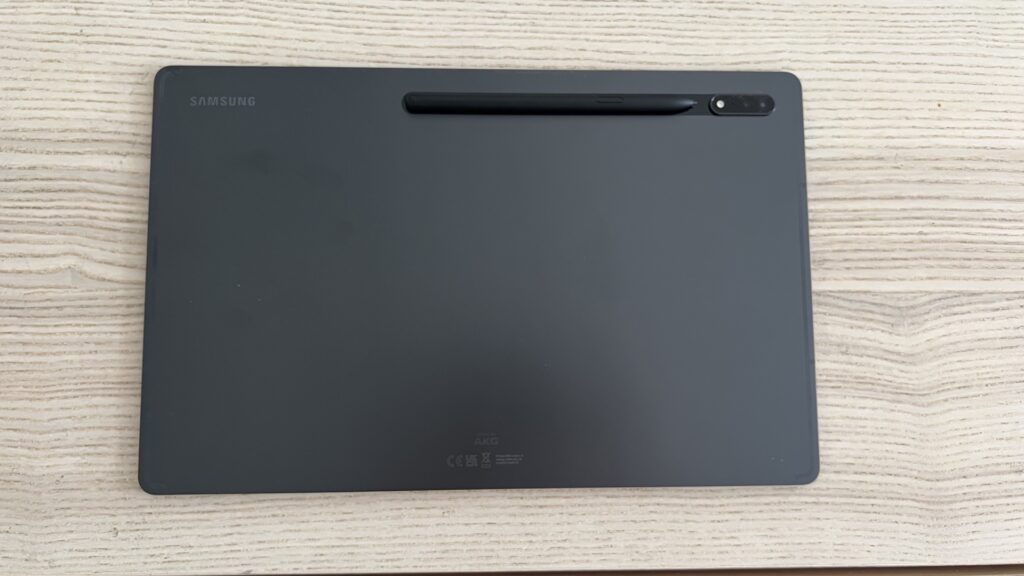 And performance in all of this?
Demanding a high-end tablet from Samsung, we won't surprise you by announcing that the Galaxy Tab S8 Ultra is very well equipped. The Snapdragon 8 Gen 1 processor is among the most powerful on the market, and its battery can easily last several days if you use it at a normal frequency, there's obviously 5G as an option, and as a small bonus, the S-Pen comes with the tablet. We even have a fairly satisfying dual camera module on the back of the device, in case you want to carry around a 14.6-inch camera.
judgment
We loved
Stunning OLED screen
very good program
S-Pen included in the box
We loved less
The price
The tablet is sometimes too big
Keyboard is sold as an option
With the Galaxy Tab S8 Ultra, Samsung is taking risks that it is important to live up to. In a market where everything looks the same, the Korean manufacturer is betting on the XXL format to make consumers want to look again at the shelves. What should be remembered? There is no denying that the Galaxy Tab S8 Ultra's 14.6 inch OLED display is stunning. Watching a movie, playing games, or surfing the web on this device is exceptional. Display quality is superb. However, 14.6 inches also has the downside of making the product less portable, which is quite annoying for a tablet. With a price tag of over €1,000, the Galaxy Tab S8 Ultra is too close to a real laptop to even recommend it with our eyes closed. This is a great option only for very video use.
Some links in this article are affiliated. We will explain everything here.